Medium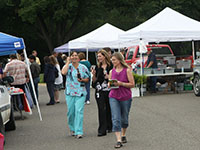 The North Dakota Department of Agriculture (NDDA) collects prices of specialty crops that are sold across the state. The data is collected on a voluntary basis. Here are some details about the data that you can view.
The data is city specific.

Farmers market vendors voluntarily provided pricing and unit measurement information to the NDDA.

The prices are only for products that a producer brought to the market during that specific data collection period.

The pricing does not reflect any sale prices or volume discounts.

The NDDA tried to calculate pricing on a consistent scale based on the information provided. However, measurements such as "per bunch" are not standardized.

The prices listed are for informational use only. Changes in market supply and demand may cause future prices to adjust to meet market conditions.

Data collection started in 2016
2016 PRICING INFORMATION:
2017 PRICING INFORMATION:
For convenience we have put all three months of data collection in one file. When you open the document you will notice tabs at the bottom for each month of data collection.