Medium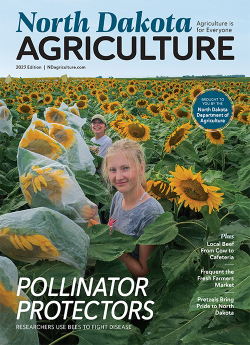 The 2023 North Dakota Agriculture magazine is here! This new issue features stories about North Dakota's ag statistics, what's growing in North Dakota, local beef in schools, soybean processing plants adding value, using bees for research, meat processing classes, farmers markets, the story of Dot's Pretzels ­­and more!
Get your copy today!
For multiple copies, simply enter the amount desired in the Agriculture Magazine box.
Get a FREE hardcopy or multiple copies to distribute
The magazine will also be distributed to organizations throughout the state such as libraries, convention and visitors bureaus, government offices, hospitals and more. It will be available for pickup at Pride of Dakota events throughout the state, September-December.