Medium
The North Dakota Department of Agriculture is committed to addressing hunger in our state through the local foods initiative. By teaming up with Great Plains Food Bank, NDSU Extension Service, NDSU Master Gardeners, North Dakota FFA, Dakota College at Bottineau, Entrepreneurial Center for Horticulture, Northern Plains Sustainable Agriculture Society, The North Dakota Farmers Market and Growers Association, Healthy North Dakota, Hunger Free North Dakota Coalition and Pride of Dakota, we have created a Hunger Free North Dakota Garden Project.
For the project, we are encouraging farmers and gardeners to plant an extra row or acre of produce to donate fresh fruits and vegetables to food pantries, soup kitchens and other charitable community programs. The NDDA recognizes that often times farmers and gardeners have extra produce and through this program, nutritious food can be donated to make a difference and not wasted.
Everyone in the state is invited to become a part of the project and help your neighbors in need.
This project will accomplish these fundamental goals:
Grow and distribute a minimum of 500,000 pounds annually of fresh produce to North Dakota's food pantries, shelters and charitable organizations.
Build a distribution system to supply ND with fresh and healthy produce.
Recognize the quantities of fruits and vegetables grown in the state.
Improve diets through donation and education.
Connect local produce in communities through farmers and gardeners.
Reduce food waste in our state.
The produce will be weighed and distributed in each community. The Great Plains Food Bank and the NDDA will coordinate the pounds donated throughout the harvest season.
Any produce donation is greatly appreciated but if you are considering planting some extra the below list might give you some good ideas.
• Beans
• Beets
• Carrots
• Cucumbers
• Onions
• Peas
• Peppers
• Tomatoes
• Watermelon
If you have extra produce to donate contact your local food pantry to schedule a drop off time. For a full list of participating organizations, visit the link below.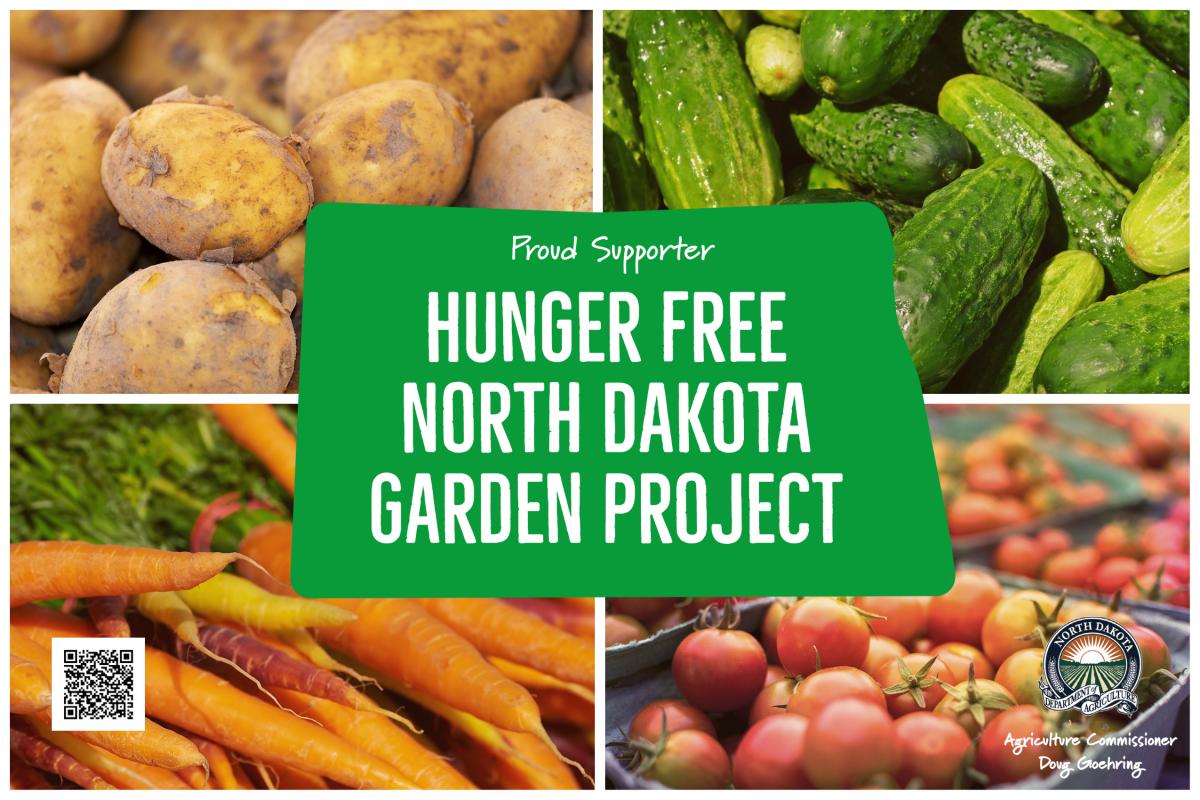 Contact the North Dakota Department of Agriculture at 701-328-2659 for your free Hunger Free North Dakota Garden yard sign.
Learn how the program is making a difference and meeting a growing need in North Dakota.
30 second PSA
To make it easier for farmers and gardeners to donate produce the NDDA has identified produce donations sites on an online map. Produce donation sites are identified by an orange pin icon on the map. Click the green layers button at bottom center of the map to open the layers list. From the list you can de-slect the layers you do not want to see. This will help to view and locate a produce donation site in your area. This list will be updated frequently so continue to check the map throughout the growing season.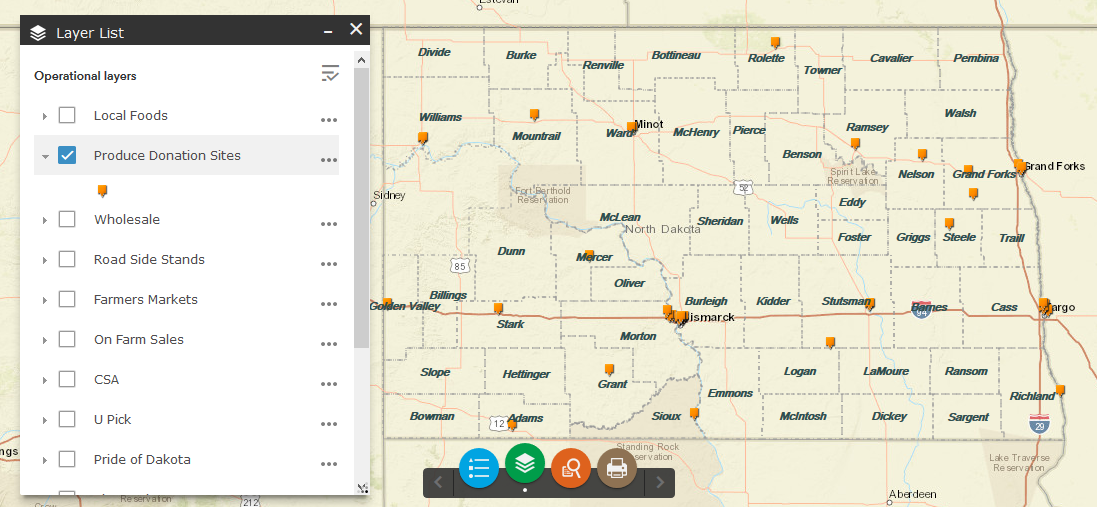 Navigating the map
The map functions like most online maps by clicking and scrolling with your mouse, or touching the screen on a mobile device. To get more detailed information about a specific produce donation site just click on the orange pin on the map and a window will pop up with information about donating produce.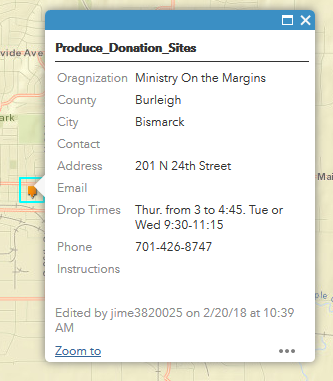 If a local pantry is not on the map please contact them and see if they accept fresh produce. If they do and are not on the map you can encourage them to fill out the form to be included.
If your organization would like to be added to the map click here to fill out the form to have your location added.