<< All News
Monday, May 18, 2020
BISMARCK – This week is Emerald Ash Borer Awareness Week in North Dakota.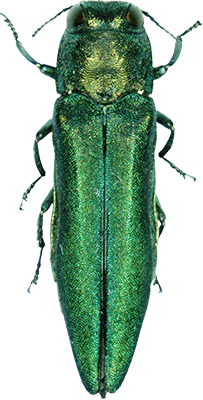 Native to Asia, the emerald ash borer (EAB) attacks true ash trees (Fraxinus spp.). The larvae feed under the bark, disrupting the movement of water and nutrients and killing the tree within several years. EAB has killed hundreds of millions of ash trees in the United States over the past decade.
"EAB is found in 35 states, including our neighbors, Minnesota and South Dakota," said Agriculture Commissioner Doug Goehring. "The newest find, a mere 130 miles from Fargo, was in Sauk Centre, MN. Given the traffic between our states and Canada, it is more important than ever for North Dakotans to take action to prevent it from coming here."
North Dakota has more than 95 million ash trees. Based on tree inventories in 99 North Dakota communities, ash trees make up between 20 percent to 80 percent of trees along streets and in city parks. They are also found in rural plantings and native forest areas.
"EAB spreads slowly on its own, but it can be moved long distances in firewood and ash nursery stock," State Forester Tom Claeys said. "Please buy your firewood from local sources, and if you are coming from out of the state, please don't bring firewood with you." 
Moving uncertified firewood out of the areas under quarantine for EAB is a federal offense.
City forestry departments, local tree boards, NDSU extension personnel and other volunteers will tie ribbons along with informational flyers on publicly owned ash trees in over 25 North Dakota towns and cities. State parks will also participate. The event is organized by the North Dakota Department of Agriculture (NDDA), the North Dakota Forest Service (NDFS) and North Dakota State University Extension.
The North Dakota Department of Agriculture, the U.S. Department of Agriculture and city foresters have been surveying for EAB since 2008. NDDA, NDFS and city foresters will be placing traps around the state. Trapping will continue in 2020 with nearly 400 EAB traps in cities, state parks, recreation areas, campgrounds, rest stops and other areas of high risk to survey for EAB.
The two-foot-long, three-sided, purple traps are baited with a lure attractive to emerald ash borers. The traps will be monitored through the summer during the adult flight period.
Goehring and Claeys asked that people encountering one of these traps to please leave it undisturbed.
More information about EAB is available on the NDDA website at www.nd.gov/ndda or www.ndinvasives.org.
<< All News