<< All News
Thursday, March 2, 2023 - 03:09pm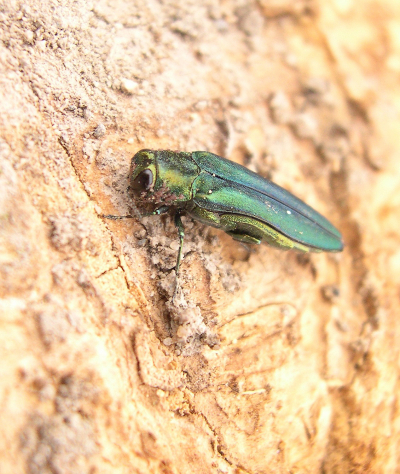 BISMARCK, N.D. – This week, an insect larva found in the city of Moorhead, Minnesota, by the city forester and submitted for confirmation by Minnesota Department of Agriculture was determined to be emerald ash borer.

Emerald ash borer is a wood boring insect originally from Asia which was first found in the U.S. in 2002. It has since spread to 36 states and killed hundreds of millions of ash trees. Emerald ash borer adults do not fly more than a mile or two on their own; however, they can be moved long distances through the movement of firewood and ash nursery stock. 

North Dakota has more than 90 million ash trees in native and rural forests, and ash trees make up between 20% to 80% of the trees along city streets and parks. Unless treated, infested ash trees can be killed in a few years. However, treatments are not recommended until emerald ash borer is detected within 15 miles. Homeowners are urged to contact a licensed, reputable tree care company if they decide to treat an ash tree.

"This detection, just 2 miles from the North Dakota border, is now the nearest detection to our state," Agriculture Commissioner Doug Goehring said. "The North Dakota Department of Agriculture and our partners have been preparing for emerald ash borer's eventual arrival for many years. NDDA maintains a quarantine that restricts movement of regulated commodities such as firewood from infested areas and will be expanded to include the newly infested area. North Dakota residents and travelers are urged to be proactive to keep emerald ash borer from spreading."

The city of Fargo, just across the river from this new detection, has aggressively diversified the urban forest with other tree species, reducing boulevard ash populations to less than 24%, has placed and monitored traps each summer, and has promoted awareness through outreach events, news releases and neighborhood mailings.

NDDA will collaborate with the Minnesota Department of Agriculture, North Dakota Forest Services, NDSU Extension and local forestry departments to determine the extent of the infestation, continue to monitor ash trees and conduct outreach in the coming months.

Travelers should leave firewood at home and purchase or gather where allowed from local sources. Other regulated materials include ash logs and branches, nursery stock, and wood chips. Moving regulated materials from a quarantined to a non-quarantined area without a permit can result in civil penalties of up to $5,000.

For more information about emerald ash borer, what to look for in ash trees and possible treatments, please visit www.ndda.nd.gov/eab. To report suspect infestations, use the same link, leave a voicemail at 701-328-5110 or email reportapest@nd.gov.
<< All News