Medium
GO TO: ADDING VALUE WITH NORTH DAKOTA VERIFIED LIVESTOCK, HOW TO QUALIFY, ENROLLMENT REQUIREMENTS, PROGRAM COSTS
North Dakota Verified Livestock (NDVL) is a voluntary marketing program create to add value to North Dakota livestock through age and source verification. This verification is currently required by some cattle marketers, feed yards, and beef packing plants.
As export opportunities become more available, age and source verification is a priority for foreign markets and some domestic markets. North Dakota Verified Livestock will assist by qualifying livestock producers to utilize these opportunities and gain access to foreign markets.
Age & Source Verification begins with the cow/calf producer. Participating producers are required to have verifiable birth records and individually identify cattle with a program compliant tag prior to leaving the ranch of origin.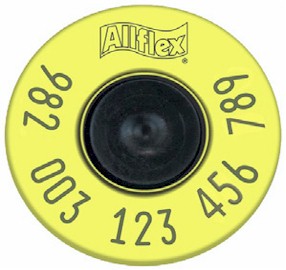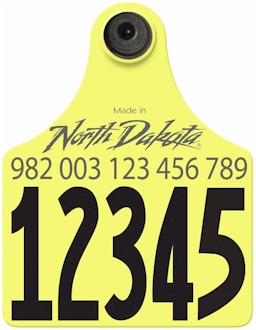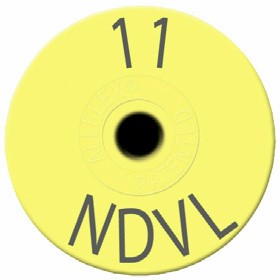 Proposed ear tags for the North Dakota Verified Livestock program
North Dakota Verified Livestock is a unique and flexible program to livestock producers. Cattle can be age verified as individuals (individual calving dates) or by a group (first born birth date is applied to the whole heard). Using the management practices already established by the producers in the state, the phrase "Made in North Dakota" will have value to the consumer.
Adding Value with North Dakota Verified Livestock
Adds value to North Dakota livestock through age and source verification
Allows for cattle to be eligible for export market
Provide production systems to gain access to opportunities in certain domestic markets
At the request of the producer, North Dakota Verified Livestock will be advertised to livestock marketers and feed yards
How to Qualify
Maintain calving records for age and source verification
Contact North Dakota Department of Agriculture to schedule an on-site enrollment process
Tag animals identified as North Dakota Verified Livestock
Submit documents and data for verification
Enrollment Requirements
All North Dakota Cattle producers are eligible
Program Costs
On-site verification costs are covered by the North Dakota Department of Agriculture
EID tag only: $3.00 available at approved NDVL retail suppliers
Visual and EID tag: $4.05 per head enrollment
Feed yard enrollment: $275.00
*Age & Source Verification provided through AgInfoLink's USDA Approved Process Verified Program
Related Resources
Medium
h3
Related Resources
Age and Source Verification Contacts
Medium
h3
Age and Source Verification Contacts
Medium
Jason Wirtz
Livestock Development Specialist
600 East Boulevard Ave.
Dept. 602
Bismarck, ND 58505
701-220-1628
701-328-2231 or 800-242-7535