Medium
The North Dakota Turkey Federation consists of a group of North Dakota turkey producers that come together, network and learn about the latest turkey production practices, keep updated on national issues and local issues as well as any changes in regulations.
Turkey is a nutritious, low-calorie, low-cholesterol, economical food source that is taking its place in the American diet year-round. No longer is the turkey just for Thanksgiving and other holidays. The American consumer has been quick to recognize turkey as the nutritional and economic bargain it is. Today consumers are able to buy turkey in many forms, from the traditional whole bird to the new products appearing as ham, bologna, salami, pastrami, bacon, breakfast sausage, hot dogs, and ground turkey to name a few.
Because advances in turkey production, processing, and marketing has made turkey available year-round, the North Dakota Turkey Federation has provided this webpage to try to answer some of the most often asked questions.
Thanksgiving Turkey Presentation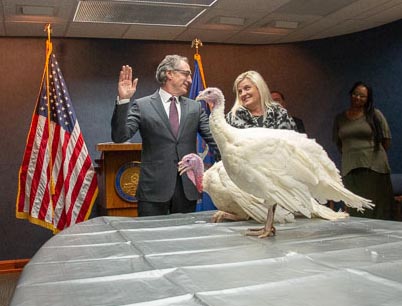 - The Turkey Federation donated a dozen frozen turkeys to both the Ruth Meiers Hospitality House and Abused Adult Resource Center.
There are 9 turkey farms in North Dakota that produce around 1 million birds annually. Each year, members of the North Dakota Turkey Federation present a live turkey to the Governor in a ceremony before Thanksgiving.
Related Resources
Medium
h3
Related Resources